(Source: www.macrumors.com)
Microsoft hopes the app – the result of a Microsoft Garage project – will appeal primarily to students who don't back up their photos to a cloud service such as the company's own OneDrive, but need a convenient way to get content from their smartphones to Windows machines in an education setting.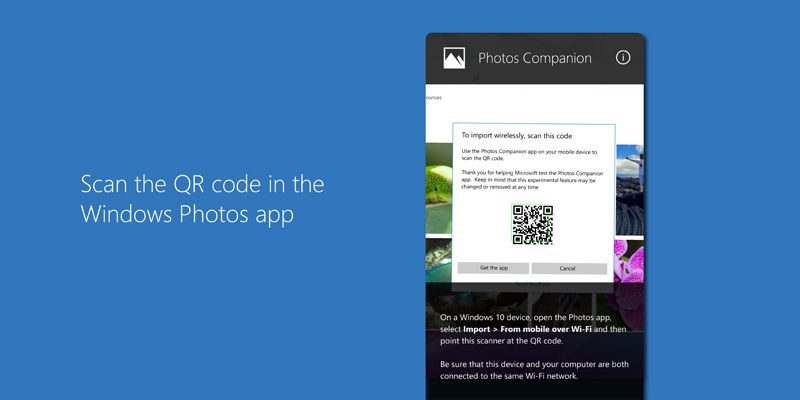 We began developing a simple, experimental app for iOS and Android to see if we could unblock educators and help them begin using the Photos app in their classrooms. We knew that students often captured on multiple phones or tablets, but leveraged a single "project" PC to assemble their media and create their final project. We also knew that Wi-Fi access in the classroom was great between devices, but that any solution that required the cloud for transfer could be blocked by overloaded networks.

Our solution was to build an app that would support direct wireless transfer between any phone or mobile device and the Photos app on any Windows 10 PC. This would enable students to transfer media to their own computers … or to a shared, project PC … without worrying about network speeds or mobile data charges.
The app is part of Microsoft's wider mobile strategy to improve its iOS offerings, now that Windows 10 Mobile hardware is no longer a focus for the company. Microsoft officially ended support for Windows Phone back in July, and is
Microsoft today released Photos Companion , an iOS app specially made for Windows 10 users to let them transfer photos from their Apple devices to PCs more easily. First circulated among beta testers in November, Photos Companion links with Windows 10's built-in photos app by way of a QR code, after which multiple photos can be sent over the same Wi-Fi network.Microsoft hopes the app – the result of a Microsoft Garage project – will appeal primarily to students who don't back up their photos to a cloud service such as the company's own OneDrive, but need a convenient way to get content from their smartphones to Windows machines in an education setting.The app is part of Microsoft's wider mobile strategy to improve its iOS offerings, now that Windows 10 Mobile hardware is no longer a focus for the company. Microsoft officially ended support for Windows Phone back in July, and is no longer developing new features or hardware for Windows 10 Mobile Photos Companion is a free download from the App Store. [ Direct Link
More Info: www.macrumors.com