(Source: www.macrumors.com)
To get to it, tap on the hamburger menu in the right hand side of the app, and then scroll down. "Protect" features a blue icon with a shield, and when you tap on it, it links to the Onavo VPN app in the iOS App Store.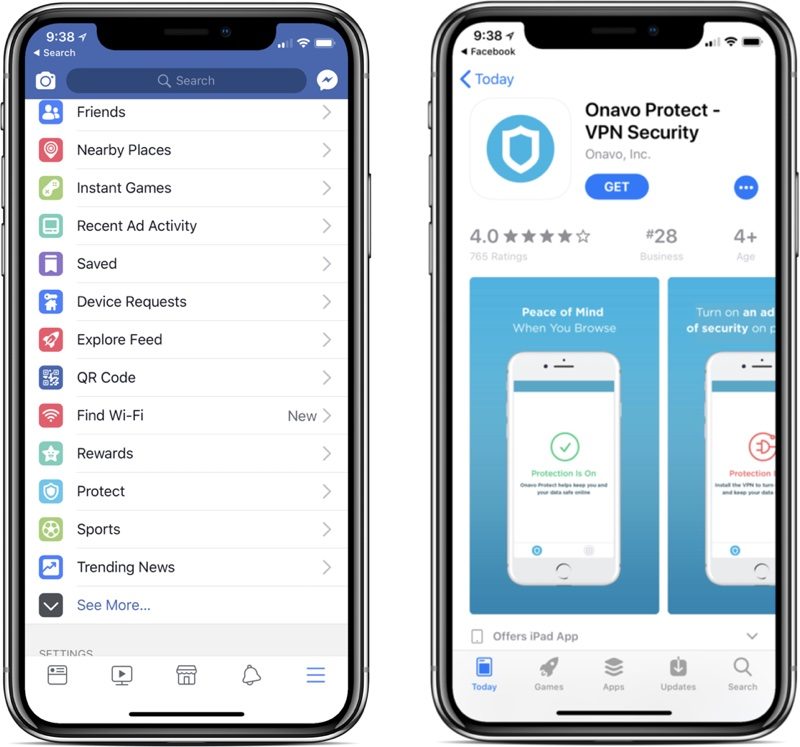 But Facebook didn't buy Onavo for its security protections.

Instead, Onavo's VPN allow Facebook to monitor user activity across apps, giving Facebook a big advantage in terms of spotting new trends across the larger mobile ecosystem. For example, Facebook gets an early heads up about apps that are becoming breakout hits; it can tell which are seeing slowing user growth; it sees which apps' new features appear to be resonating with their users, and much more.
As The Wall Street Journal explains, whenever a person using Onavo opens an app or website, Onavo redirects the traffic to Facebook's servers and logs the action in a database, allowing Facebook to draw conclusions about app usage from aggregated data.
Onavo for iOS and Android has been installed on more than 33 million devices, according to Sensor Tower, with 62 percent of those installs on Android. TechCrunch speculates that Facebook may be promoting Onavo in the iOS app to encourage more iOS users to download the app.
Facebook is clear about Onavo's purpose, with a disclosure available on the App Store: "Onavo collects your mobile data traffic. This helps us improve and operate the Onavo service by analyzing your use of websites, apps, and data. Because we're part of Facebook, we also use this info to improve Facebook products and services, gain insights into the products and services people value, and build better experiences."
Facebook has started promoting the Onavo VPN client it acquired back in 2013 directly within the Facebook app for iOS devices. A link to the Onavo VPN client is available in the Facebook app in the United States under a new "Protect" section of the Facebook navigation menu.To get to it, tap on the hamburger menu in the right hand side of the app, and then scroll down. "Protect" features a blue icon with a shield, and when you tap on it, it links to the Onavo VPN app in the iOS App Store.As TechCrunch points out, while Onavo offers to "keep your data safe while you browse" and let you know when you "visit potentially malicious or harmful websites," Facebook's real aim with Onavo is tracking user activity across multiple different apps to learn insights about how its customer base uses third-party apps.In August of last year, The Wall Street Journal took a look at how Facebook uses Onavo to track what people do on their smartphones outside of the Facebook ecosystem. Using Onavo data, for example, Facebook was able to determine that the Instagram Stories feature was impacting Snapchat's business well ahead of when Snap disclosed slowing user growth.As The Wall Street Journal explains, whenever a person using Onavo opens an app or website, Onavo redirects the traffic to Facebook's servers and logs the action in a database, allowing Facebook to draw conclusions about app usage from aggregated data.Onavo for iOS and Android has been installed on more than 33 million devices, according to Sensor Tower, with 62 percent of those installs on Android. TechCrunch speculates that Facebook may be promoting Onavo in the iOS app to encourage more iOS users to download the app.Facebook is clear about Onavo's purpose, with a disclosure available on the App Store: "Onavo collects your mobile data traffic. This helps us improve and operate the Onavo service by analyzing your use of websites, apps, and data. Because we're part of Facebook, we also use this info to improve Facebook products and services, gain insights into the products and services people value, and build better experiences."
More Info: www.macrumors.com