(Source: www.msn.com)
© Charley Gallay/Getty Images for Disney
Actor Mark Hamill attends press conference for the highly anticipated 'Star Wars: The Last Jedi'.
It was about eight years ago when Mark Hamill agreed to meet a terminally ill boy who wanted nothing more than to talk to Luke Skywalker in person. 
The request was a long shot. But Ed Solomon, the screenwriter best known for Men in Black and Bill and Ted's Excellent Adventure, had to try for his friend, Joe Sikorra, whose son was dying of juvenile Batten's Disease (JNCL).
The Star Wars actor is known for his huge heart and his giving to charities, but this particular moment went under the radar  – that is until Solomon began tweeting about it on Monday in an effort to combat what seemed like a daily tidal wave of negative news. His tweets were so well received, Twitter made a moment of them and Solomon was inundated with replies. Even Hamill saw. 
WHY I WILL LOVE @HamillHimself FOREVER (THREAD OF 4):

When a friend's son (who was, so tragically, dying from an incurable illness) made a wish: to meet Luke Skywalker, it fell on me — the only person the dad knew who worked in the film business — to make a call. 1/4

— Ed Solomon (@ed_solomon) December 4, 2017
Not knowing Mark, I called his agent and explained that this lovely boy watched Star Wars every day and wanted to meet NOT Mark Hammill, but, rather, the actual CHARACTER that he played (the boy's own mental state had devolved past the point of being able to grok that… 2/4

— Ed Solomon (@ed_solomon) December 4, 2017
..Luke was fictional). The agent begrudgingly said he'd call Mark, but also said not to get my hopes up. 90 seconds later I got a call from @HamillHimself, who immediately said yes and gave me his home address. 3/4

— Ed Solomon (@ed_solomon) December 4, 2017
He not only met with the boy, but spent hours answering question after question (sometimes the same ones repeatedly), AS "Luke." Even posting this now makes me teary. He was compassionate, kind, and patient. And it literally meant the world to this kid and his family. 4/4

— Ed Solomon (@ed_solomon) December 4, 2017
Heat Vision on Tuesday caught up with Solomon and Sikorra to learn more about their emotional, "beautiful experience" with the star of the upcoming Last Jedi. 
"Around 1998, my son, John, was diagnosed with a very are genetic disorder called juvenile Batten's Disease (JNCL)," Sikorra says. "The disease robs kids of their vision first followed by cognitive motor function. Typically kids die in their late teens, early 20s. It is a very complicated disease and most doctors aren't that familiar with it. So we lived in the moment, did as much as we could." His other son, Ben, also has JNCL. 
John was obsessed with Star Wars and watched the original trilogy every single day, says Sikorra, who is a former Santa Monica police officer and now works as a therapist and hosts a call-in show on Relevant Radio, a Catholic network. He also the book wrote Defying Gravity about his sons' condition and the family's experience. 
Wanting to give his son a special experience, Sikorra called his friend, Solomon, in the hopes he knew Hamill somehow so John could meet his hero. 
"I had never met Mark, but I called his agent and asked if this could happen," says Solomon, who is currently working on HBO's Steven Soderbergh-directed limited series, Mosaic. "Mark's agent said, 'Please don't say anything to the boy because I don't want to get his hopes up.' And then, literally less than two minutes later, Mark calls and said, 'I would love to. How about tomorrow?' I started balling." 
That next day, Solomon and Sikorra, along with Sikorra's two sons met up with Hamill for a portion of the day. 
Because of his state of mind, John could not differentiate between Hamill the person and Luke Skywalker the character. The boy's short-term memory was at times fleeting. The actor handled it like a pro, Solomon and Sikorra remember.  
"Mark spoke to John simply and directly and with utter dignity," Solomon says. "John would ask the same question three times in a row, and Mark would answer the same way every single time." 
Sikorra adds, "Mark was just super patient and kind. It was was one of those beautiful experiences. It is very humbling, this disease. You have got to let go of your normal expectations for you and your kids and family. So we got into living for the moment. In the midst of struggle and tragedy, it was those points of connection that makes you feel loved and less isolated. Mark was very kind, 'no rush, my time is your time.' " 
But, there is a bit more to the story involving another Star Wars icon, the late Carrie Fisher. 
"So, Mark says are there any final questions, and John asks, 'Can I meet Princess Leia?' And Joe and I looked at each other and winced, and I remember Joe waving his arms to Mark, like you don't have to do this. And Mark said, 'I'll ask.' Soloman remembers. "And Mark called me later that day and said 'Princess Leia would be happy to meet John.' I told her about the family. She got very emotional about the unfairness of things in life. And she said 'I only have two questions: Where and when?' Unfortunately, John's situation started to deteriorate pretty quick after that, so we couldn't met up with Carrie. But Carrie had agreed to do it and that came through Mark."
John died Sept. 24, 2015. He was 23.
"There has been so much negativity out there these days and every time I see one of my heroes trending, I have to look through my fingers to see what bad thing that might have done, " Solomon says. And because of Last Jedi, I have been seeing Mark's face everywhere and it reminded me." 
Among the throng of people who saw the tweets was Hamill, who responded with, "There's no sweeter sound than a child laughing-I've been so lucky-feel it's my duty 2 give back in any way I can-Much prefer visits 2 hospitals than talk-shows Heartbreaking but inspirational-makes my career seem trivial in comparison-Wish I could do more."
Last Jedi opens Dec. 15. Sikorra says he, his wife, Lori, and Ben will see it for John.
 Related slideshow: 'Star Wars: The Last Jedi' — what we know so far (via Photo Services)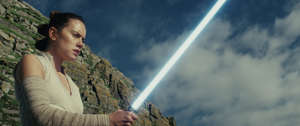 'Star Wars: The Last Jedi' – What we know so far
More Info: www.msn.com