(Source: www.nylon.com.sg)
November 15, 2017
Let's be honest: Keeping white sneakers perfectly white can kind of be a pain in the ass/gateway to embarrassing obsessive behaviour. So why not save the trouble and get a pair that already has that favourite-pair-of-beaters vibe built in? Enter Golden Goose Deluxe Brand's (GGDB) trendy pre-distressed sneakers a.k.a Italy's version of Converse.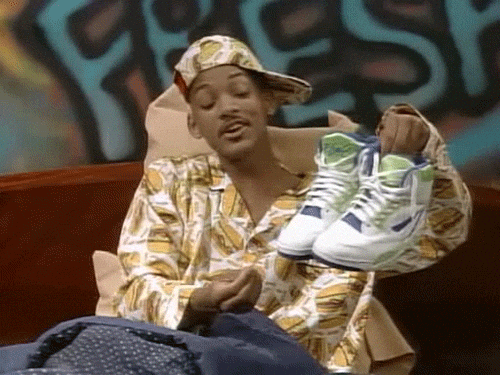 Using the same quality leather you'd find in bench-made dress shoes for their trainers, GGDB designers carefully craft the kind of scuffs that'd take you years to make yourself, and later finish the sneakers in colour-popping combos no one else has thought of. The result? A luxury item perfectly beaten up with "age".
Launched back in 2000, the brilliant idea came from two Italian designers, Francesca Rinaldo and Alessandro Gallo — who are admittedly fashion industry outsiders. Don't feel bad if these names don't seem too familiar to you — ever since the brand first started, they have relied on their products to convey the message of craftsmanship and authenticity, and a break from what Rinaldo and Gallo saw as the "standardised brands of the market."  Thus, the lived-in, pre-loved look.
    Crystal Superstar Sneakers
        Silver Glitter Sneakers with Red Star
     Yellow and Black Suede Superstar Sneakers
While most of us take pride in maintaining a fresh-from-the-box look for our most prized pairs, there's something undeniably subversive to buying a distressed looking pair and wearing them with a large heap of DGAF attitude.
Celebrity sightings on stylish women like Man Repeller's Leandra Medine and fashion cred collabs with in-the-know brand Off-White, have brought these from underground to their mainstream tipping point in recent months. And while the brand has expanded into some seriously luxe and casual clothing and above-the-ankle accessories in recent years, their signature sneakers keeps em grounded.
Retailing a range of sneakers, ready-to-wear and accessories from their AW17 collection, Golden Goose Deluxe Brand at Pedder on Scotts will be the brand's first-ever South East Asia outpost and first Singapore pop-up.
Women's Postcard Print Silk Shirt
Women's Hot Pink Blazer
Women's Glitter Purple Pants
Women's Pleated Golden Dress
Women's Studded Belt
While you're there, keep your eyes peeled for charming prints of Venice's scenic canals imprinted on shirts and fluid skirts alongside sleek jackets and urban leather footwear from their latest collection.
Golden Goose Deluxe Brand at Pedder on Scotts will open from 10am to 9pm daily, from end October 2017 onwards.
More Info: www.nylon.com.sg