(Source: www.macrumors.com)
Apple Chadstone first opened nearly ten years ago in 2008 with 69 employees, and will now grow to more than 240 with the grand reopening (via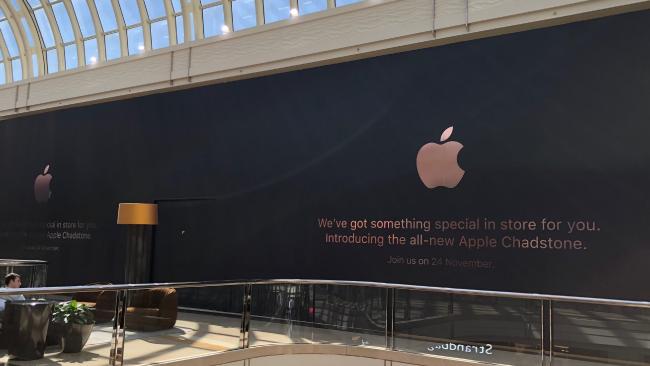 Image via Herald Sun

Apple Chadstone will now feature a Genius Grove, a "boulevard" of window product displays, a boardroom for business meetings with local entrepreneurs and developers, a meeting place for "Today at Apple," and more. According to Apple senior vice president of retail, Angela Ahrendts, Apple Chadstone will lead the way for the rest of Australia's Apple retail locations.

"We're thrilled to open Apple Chadstone in a stunning new location and introduce Australians to our latest store design," she said. "We look forward to continuing to build on our 22 stores in Australia."
In other retail news, Apple Regent Street was robbed today by ten individuals who stole "thousands of pounds worth of laptops and iPads" (via
In total, police said the thieves stole iPhones, iPads, Apple Watches and two iPhone Xs, which have since been recovered near Kings Cross. Apple Regent Street is said to be "open as usual" in the wake of the attack, which apparently follows an "epidemic" of moped-related attacks and thefts hitting London recently.

Ten thugs on five mopeds launched a mass raid on the Apple store in Regent Street early today snatching thousands of pounds worth of laptops and iPads.

One customer Hajra Ali, 37, from Ilford, said: "Moped attacks have got really, really bad and I'm not surprised this happened. I don't know what the Met is doing about it.
For more on the latest Apple retail openings and redesigns, check out or
(Thanks, SlippedAtom54!)
Apple recently announced that its retail location within the Chadstone Shopping Center in Melbourne, Australia will be getting a grand reopening on November 24 at 9:00 a.m. local time. The newly relocated Apple Chadstone location will be triple the size of the previous store, and mark the first Australian store to gain Apple's modern retail layout.Apple Chadstone first opened nearly ten years ago in 2008 with 69 employees, and will now grow to more than 240 with the grand reopening (via Herald Sun ).Apple Chadstone will now feature a Genius Grove, a "boulevard" of window product displays, a boardroom for business meetings with local entrepreneurs and developers, a meeting place for "Today at Apple," and more. According to Apple senior vice president of retail, Angela Ahrendts, Apple Chadstone will lead the way for the rest of Australia's Apple retail locations.In other retail news, Apple Regent Street was robbed today by ten individuals who stole "thousands of pounds worth of laptops and iPads" (via Evening Standard ). To get into the store, the robbers drove mopeds through the glass storefront in the early morning hours of Monday, and then in less than three minutes managed to take various products from display stands before escaping on more mopeds waiting outside.In total, police said the thieves stole iPhones, iPads, Apple Watches and two iPhone Xs, which have since been recovered near Kings Cross. Apple Regent Street is said to be "open as usual" in the wake of the attack, which apparently follows an "epidemic" of moped-related attacks and thefts hitting London recently.For more on the latest Apple retail openings and redesigns, check out or Apple Store Roundup (Thanks, SlippedAtom54!)
More Info: www.macrumors.com