(Source: www.macrumors.com)
Between July 18 and 24, Apple device owners who use the mobile payment system to make purchases in participating merchants across mainland China will receive concessions of up to 50 percent and as much as 50 times the usual number of reward points for credit cards, according to Apple's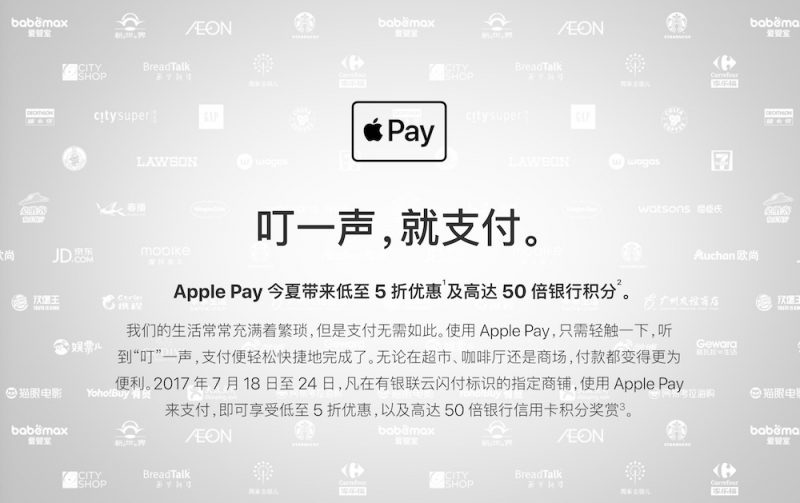 A total of 28 brick-and-mortar retail outlets are named in the campaign, including supermarkets and restaurants such as 7-Eleven, Watsons, Burger King and Starbucks, while 16 online merchants such as JD.com are also participating, with discounts varying between businesses.
In addition to retailers, 17 Chinese banks are also getting involved, offering up to 50 times the usual amount of reward points accrued when transactions are made using credit cards registered with Apple Pay.
The Apple Pay promotion is the largest of its kind to date in China, where third-party mobile payments are dominated by Alibaba Group and Tencent Holdings, which run Alipay and WeChat Pay, respectively. The rival digital wallets work on various phone brands, whereas Apple Pay, which debuted in China in February 2016, is limited to iOS devices and Apple Watch.
That presents a challenge for Apple, which has struggled to shift iPhones in China. The company shipped 9.6 million units in the first quarter, down 26.7 percent from a year earlier. It recorded a 9.2 percent share of the smartphone market in Q1 2017, down from 12.7 in the first quarter of 2016.
Apple today launched a large-scale promotion in China offering special discounts for consumers who use Apple Pay, in the company's latest bid to counter the dominance of rival digital wallets in the country.Between July 18 and 24, Apple device owners who use the mobile payment system to make purchases in participating merchants across mainland China will receive concessions of up to 50 percent and as much as 50 times the usual number of reward points for credit cards, according to Apple's official Chinese website A total of 28 brick-and-mortar retail outlets are named in the campaign, including supermarkets and restaurants such as 7-Eleven, Watsons, Burger King and Starbucks, while 16 online merchants such as JD.com are also participating, with discounts varying between businesses.In addition to retailers, 17 Chinese banks are also getting involved, offering up to 50 times the usual amount of reward points accrued when transactions are made using credit cards registered with Apple Pay.The Apple Pay promotion is the largest of its kind to date in China, where third-party mobile payments are dominated by Alibaba Group and Tencent Holdings, which run Alipay and WeChat Pay, respectively. The rival digital wallets work on various phone brands, whereas Apple Pay, which debuted in China in February 2016, is limited to iOS devices and Apple Watch.That presents a challenge for Apple, which has struggled to shift iPhones in China. The company shipped 9.6 million units in the first quarter, down 26.7 percent from a year earlier. It recorded a 9.2 percent share of the smartphone market in Q1 2017, down from 12.7 in the first quarter of 2016.(Via South China Morning Post .)
More Info: www.macrumors.com