(Source: www.99.co)
To be blunt, Woodlands has always been considered something of an "ulu" area. Its open spaces and lack of traffic appeal to some; but for many, its non-central location, and lack of built up amenities, make it a no-go area. This is set to change however, with the recent Remaking Our Home (ROH) initiative. The question is, can we do to Woodlands what we've done in places like Jurong and Paya Lebar?
What's going on in Woodlands?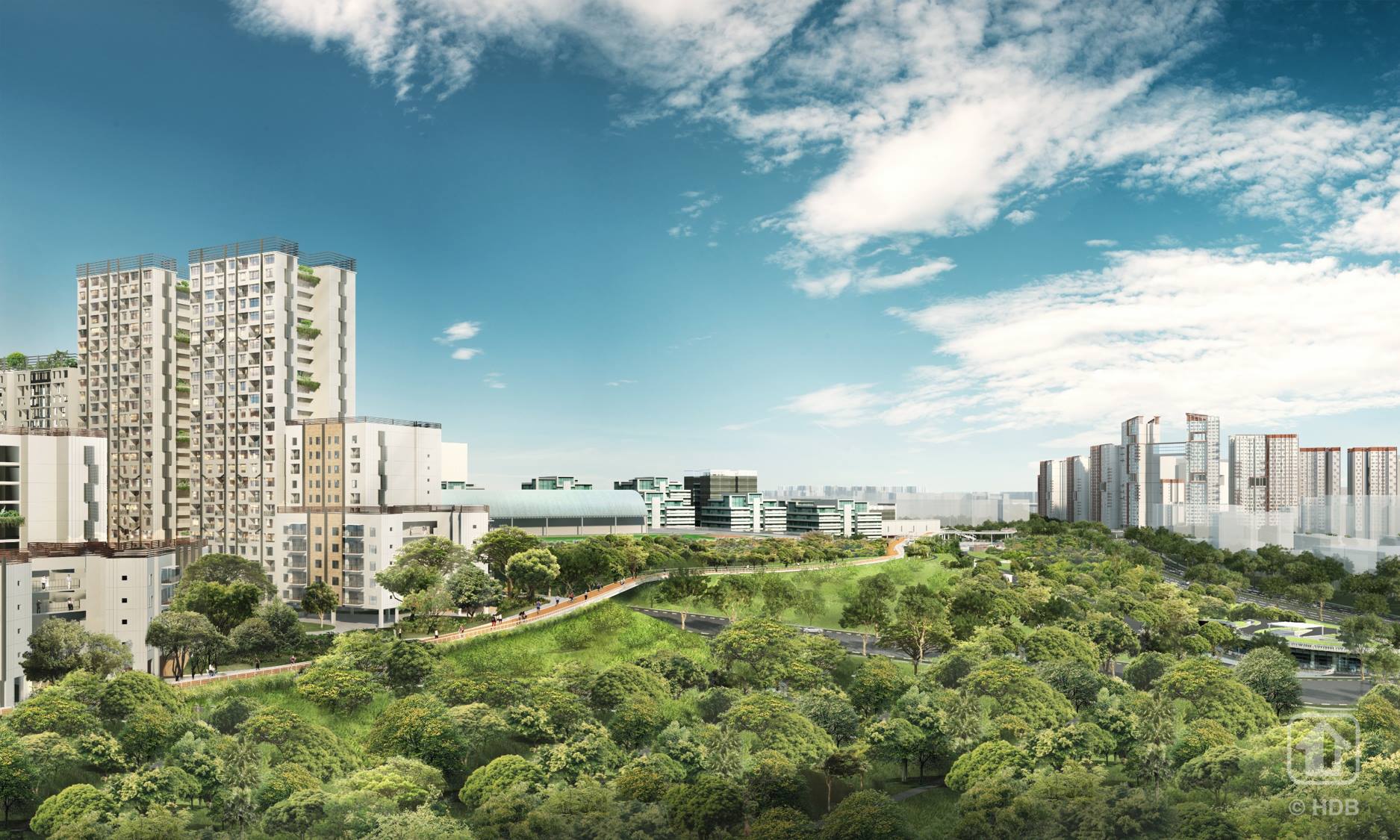 An artist's impression of the planned 1.9km scenic community link connecting Woodlands Central and Woodlands Waterfront.
An artist's impression of the planned 1.9km scenic community link connecting Woodlands Central and Woodlands Waterfront.
(Credits)
We also know that Woodlands will see sufficient room for another 10,000 homes, although there are no details on whether they will be public or private housing.
But can we drum up interest in Woodlands?
Despite the sweeping changes in the pipelines, Woodlands may not transform as quickly as Jurong did. The planned changes are still five to 10 years down the road, and up till then Singaporeans have a lot of other options to look at.
The development of secondary business hubs, such as in Paya Lebar, could steal the thunder from Woodlands for a while yet. Also, a lot depends on the mix of businesses that move into the planned Woodlands Central – if it ends up being one of those haphazard mixes (i.e. small, overly specialised shops), Woodlands still won't have its day-to-day retail needs met.
The emphasis on parkland and green spaces, while nice, may not be as significant a boon as it sounds. Woodlands is already regarded as something of a green space and a nature enclave; more park connectors and trails won't be anything new to the residents. But existing residents will probably appreciate that these qualities won't be lost.
What will make Woodlands hot is the increasing accessibility of the location. Woodlands will be served by three new MRT stations by 2019, along the Thomson-East Coast line; the emergence of Woodlands North and Woodlands South MRT stations will alleviate the common complaints that Woodlands is hard to get to. In addition, the aforementioned healthcare facilities will be located close to the Woodlands South MRT station, making it easy for residents to get to via public transport.
In the further future, there is also the possibility of MRT links between Singapore and nearby Johor, and Woodlands would really boom if that were to happen.
We suspect landlords looking for a good deal will also start to move in, once Woodlands North Coast is complete. Many workers who come from Malaysia could be interested in renting here, as it situates them close to both work and their other home. As with Woodlands Central, much depends on the willingness of various businesses (and the types of businesses) who decide to move in.
In conclusion, there will be more interest, but probably not right now.
We don't think there will be a surge of interest in Woodlands just upon this announcement. But once the train stations are up and running in 2019, the area could heat up fast. Keep an eye out on Woodlands property prices, via the map on 99.co; we'll keep you updated as the situation develops.
More Info: www.99.co