(Source: www.macrumors.com)
"One day, we'd like to be able to build new products with just recycled materials, including your old products," Apple says on its updated Environment site. In

"We're actually doing something we rarely do, which is announce a goal before we've completely figured out how to do it," Apple's Vice President of Environment, Policy and Social Initiatives and a former head of the EPA, Lisa Jackson, told VICE News during an exclusive visit to Apple's environmental testing lab on Monday. "So we're a little nervous, but we also think it's really important, because as a sector we believe it's where technology should be going.
Much of what goes into an iPhone isn't recycled, but Apple wants to change that by more aggressively using components taken from old iPhones and combining that with "high quality recycled metals" purchased from suppliers. Apple will double down on investments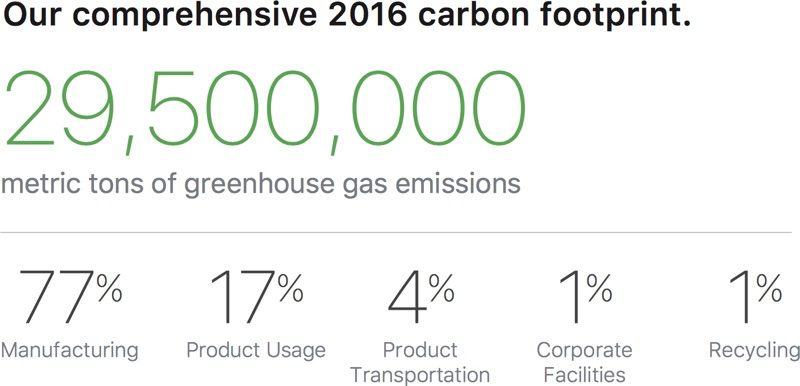 While Apple plans to source more of its materials from recycled goods, Jackson says that though a "product that lasts is really important," the company doesn't have plans to make its devices easier to repair to increase longevity.
Jackson also defended Apple's history of making products that are hard to repair. Allowing customers to repair Apple products themselves "sounds like an easy thing to say," she said. But "technology is really complex; it is sophisticated to make it work, to ensure that you have security and privacy, [and] that somebody isn't giving you bad parts."

Because of this, Apple won't be taking a "right to repair" approach to meeting its environmental goals. "All those things mean that you want to have certified repairs," Jackson said.
Other environmental milestones are also outlined in Apple's report. 96 percent of the power used by Apple facilities around the world comes from clean energy sources, and as has been the case for several years, 100 percent of the electricity that powers Apple data centers comes from solar, hydro, and wind energy sources.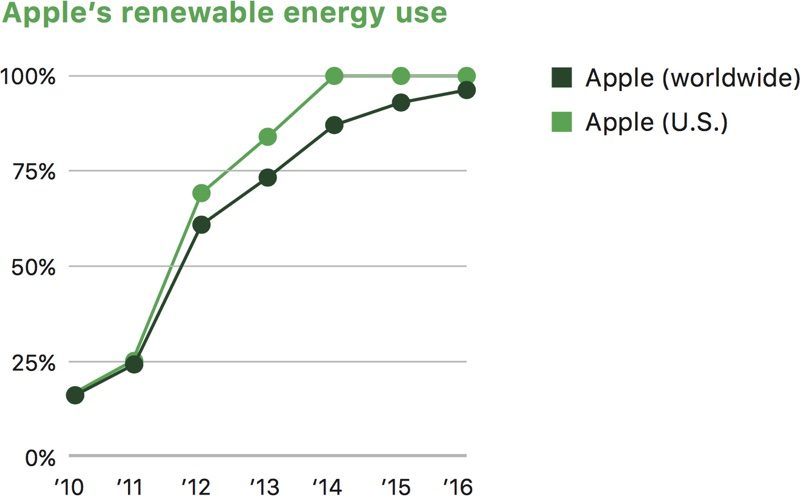 When it comes to packaging, more than 99 percent of the packaging used for Apple products is responsibly sourced. Virgin paper is sourced from protected sustainable forests, and the company has successfully protected or created enough working forests to cover all of its packaging needs.
Lisa Jackson's full comments on the 2017 environmental report can be read over at
Just ahead of Earth Day, Apple has released its 2017 Environmental Responsibility Report PDF ] with a lofty new goal: ending mining. Apple says the company is working on a "closed-loop supply chain" that would allow it to stop mining the earth for rare minerals and metals."One day, we'd like to be able to build new products with just recycled materials, including your old products," Apple says on its updated Environment site. In an interview with VICE , Apple vice president of environment, policy and social initiatives Lisa Jackson commented on the mining plan, saying "it's where technology should be going."Much of what goes into an iPhone isn't recycled, but Apple wants to change that by more aggressively using components taken from old iPhones and combining that with "high quality recycled metals" purchased from suppliers. Apple will double down on investments like Liam , the robot that breaks iPhones down into component parts, and it plans to continue to encourage customers to return products through the Apple Renew recycling program.While Apple plans to source more of its materials from recycled goods, Jackson says that though a "product that lasts is really important," the company doesn't have plans to make its devices easier to repair to increase longevity.Other environmental milestones are also outlined in Apple's report. 96 percent of the power used by Apple facilities around the world comes from clean energy sources, and as has been the case for several years, 100 percent of the electricity that powers Apple data centers comes from solar, hydro, and wind energy sources.Apple now has seven suppliers that have committed to using renewable energy, and the company plans to help suppliers bring 4 gigawatts of renewable power online by 2020.When it comes to packaging, more than 99 percent of the packaging used for Apple products is responsibly sourced. Virgin paper is sourced from protected sustainable forests, and the company has successfully protected or created enough working forests to cover all of its packaging needs.Lisa Jackson's full comments on the 2017 environmental report can be read over at VICE , and Apple's full Environmental Responsibility Report, which goes into much more detail on its recycling efforts, packaging, water usage, and carbon footprint, is available here
More Info: www.macrumors.com